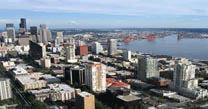 Contact Information

648 South 152nd St,
Suite 7,
Burien, Washington 98148
 
206-243-4219
206-243-5061 Fax
 
Thank you.
Bankruptcy is a time honored practice that affords honest debtors the opportunity for a fresh start. Everyone filing a bankruptcy has experienced financial problems beyond his or her control. The court, trustees, and your attorney, understand this and if you comply with their instructions, they will help you out of your financial crisis. In order to help you get the relief to which you are entitled, you must make full disclosure of all your financial affairs. Do not try to second-guess the system -- it has been here longer than you. This questionnaire will ask you to provide information about your financial situation, such as your income, your expenses, and the property you own. If you do not know the answer to certain questions, you can skip them and return to them later. If you have any questions or need any help completing this interview, contact your attorney. Please read all of the instructions below, then you will be directed to enter the login and password information you were given at the time of your visit. If you forget or lose this information please contact our office at 206-243-4219.

Items you will need to have on hand during the interview:

1. All statements from each creditor- with account numbers, interest and payment amounts, complete with mailing information, when debt was first incurred, type of debt and know which individual the debt is associated with if filing married joint, community; ie. H- husband, S- spouse.

2. All bank statements, savings, stock and insurance information, with mailing information and account numbers.

3. Vehicle mileage, year make and model, length and term of contract, interest charged, when purchased and contract end date.

4. All payroll stubs dating back 6 months, complete with employer's name and mailing information and dates of checks. (please note you will still be required to send copies of these forms to our office so that we may file them with the court- within 14 days of filing.)

5. Complete list of all household items, and clothing and inventory lists with values. (not what you paid for it, but what you could sell it for today.)

You will be asked to input all of the above information, the interviewer will not let you pass a question until it is completed properly.

If at anytime you wish to stop the interview, click on the FINISH LATER  button and you can come back and update the information. Your filing will not happen until the required basic information is input into the interviewer.

When you have completed all the questions, click on the FINISH NOW. After you are done, please contact the office and inform us that you have completed the interviewer. We will schedule a time within the next week or so, to come in to the office and sign the required forms to file, please be patient and give us enough time to process your hard work. What's happening behind the scenes after you complete the interview, we download the information and prepare the forms necessary for filing on your behalf, the Attorney will review the documents, before you sign them so we can file it. Please report any difficulties or problems with the interviewer to our office right away.


It is recommended that you complete the Pre - Filing Credit Counseling Course before filing. When your are done with the interviewer and have scheduled your appointment to sign documents it is a good time to take this class to get it out of the way prior to filing. Make sure to request that your certificate be emailed to the processor at our office. If you have not taken this class please contact the office for a list of class locations. Please note: We will not begin any downloads until you have signed the payment agreement and payment in full has been made.